Comprehensive Wealthy Affiliate Review – My Experience
Posted On
The #1 Most Successful Work From Home Strategy
In this post I am going to give you an honest, insightful comprehensive Wealthy Affiliate review.  I'll share my personal experiences with the program and insights into what this platform can do for you and your business whether you are just getting started online or already have online experience.
A Quick Overview: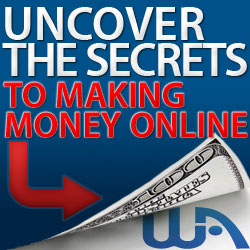 Name:  Wealthy Affiliate
Business: Online website hosting platform and education.
Founders: Kyle and Carson
Price: $0 Starter Membership or $49 monthly/$359 yearly Premium Membership
Brief Summary:  This is a step-by-step training program ideal for complete beginners or those already established with an online presence.  In this community I have met retired veterans, daycare providers, new moms, college students, executives, you name it, all enjoying the benefits of enhancing or replacing their current income with Wealthy Affiliate training.  These are people who have chosen their dream jobs and are making it happen every day!
Rating: 5 out of 5
What is Wealthy Affiliate?
Wealthy Affiliate is a comprehensive training program for anyone who wants to have a successful online business.  Yes, anyone can follow the step-by-step program that is laid out by the owners of Wealthy Affiliate.  Wealthy Affiliate is a community of like minded people encouraging and assisting each other to achieve their goals.
You choose if you want to build out your own niche website or if you want to follow the WA bootcamp program.  Either way you are choosing and creating your dream.  I am not a tech savvy person and I created my website within minutes of signing up for the free Starter Membership.  I started the training immediately and I still learn new things all of the time.  Kyle and Carson are always creating new trainings and improving the WA community for all of us.
The Training
At Wealthy Affiliate you are told you can build a website in a very short period of time with no experience and you really can.  You can choose any niche you want from skills and information you already have or knowledge you are willing to learn. I have currently built 3 websites with Wealthy Affiliate and have at least two more planned and I had no previous experience with building websites.  Your very first day here you can have a website, a true online business.
The training takes you through two options to make this happen. The first is by building out your own niche website and the second is by following the Affiliate Bootcamp.  Both courses will teach you everything about how to create a money making online business.  You can learn every aspect about each component from training and then you can learn more from the community members and ask questions in Live Chat.  The first time I asked a question I was shocked, not only that Kyle himself answered but so did many others.  Where else do you get that kind of immediate response from a group of experts.
Option 1: Online Certification (5 Courses, 50 lessons)
Getting Started
Building Your Own Traffic Producing Website
Making Money!
Mastering Social Engagement
Achieving Maximum Success Through Content Creation
This certification teaches you how to take something you are passionate about and create an online business around it. It could be gardening, horses, chocolate, healthy eating, or anything else you can think of.  What do you dream of doing while you are at work?  Well, create your business about that and you can dream and work at the same time!
Option 2: Affiliate Bootcamp (7 Courses, 70 lessons)
Getting Your Business Rolling
Content, Keywords, And Conversions
Giving Your Site Social Value
Get Visual. Get Aesthetic. Get A Brand Through Media
Knowing Your Audience & Catapulting Your Referrals
Bing, Yahoo, And The Power Of PPC
How To Scale Successful PPC Campaigns
The Affiliate Bootcamp teaches you how to develop your own website in the "Making Money Online" niche.  You can earn money from Wealthy Affiliate through this platform.
These two certification courses are designed to be easy for anyone to follow.  There are videos created by the ownere's, Kyle and Carson, that show you step-by-step how to go through each section of the course.  Kyle and Carson both have over 15 years of experience in online marketing.  I found myself going back to watch certain parts until I competely understood the concepts.  You can watch and rewatch again and again if you want to.  This whole process is at your own pace.
Live Weekly Trainings
Every week Jay, a member from the inception of Wealthy Affiliate and guru with 15+ years in online marketing, shares his knowledge on a new topic.  He covers topics such as; Choosing your niche, Using social media, SEO, and much more.
Jay will share strategies you can implement immediately to improve your website.  He is intelligent, funny and helpful all at once.  These trainings are incredibly valuable and you will get them for free as a member of the Wealthy Affiliate community.
The Price
The best part of WA is that you can try it out for FREE.  And you can remain as a free member forever.  You get two websites and access to the two course options outlined previously, as well as the free keyword tool. The first seven days you can take advantage of Live Chat to see what other people are talking about.   If you like what you see you can upgrade to Premium for only $49/month and continue your training and take advantage of the Live Training and Jaaxy keyword tool.
Starter Membership: FREE – Join Now
Premium Membership: $9/month or $359/year – Join Now
Conclusion
If I thought it would make sense and be fair to you I would have given this site builder 6+ stars out of 5.  Wealthy Affiliate really is that good!  Joining Wealthy Affiliate will give you everything you need to make money online.  You will be walked through this process by leaders in the industry and supported along the way by a group of friends and peers.  I have enjoyed everyday I have been a part of this community and I haven't found a better resource for the materials needed to start a successful online business.  I was welcomed the first day and have been enjoying each day since. If you have any questions please leave them in the comments section below.  I will be happy to answer any and all questions with an honest reply.